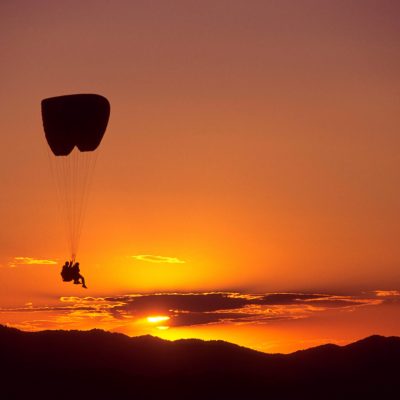 Katto Sky Tours is located in Jaco beach, central Pacific of Costa Rica. We are a specialized team dedicated 100% to our passion and profession, with more than 35 years in the practice of paragliding. Safety is our motto, which is why we have the best and most updated equipment for paragliding. As we know that our passengers are all different, we have all the approved sizes in the market, to be able to fly without any problem according to the conditions of the moment.
We are the only company in Costa Rica that uses the towing method when taking off, which offers the greatest safety to the passenger as well as to the pilot since the passenger, (contrary to what happens with takeoffs from the mountain) has almost no control of anything on takeoff and that's what we pilots like, to have all the control in our hands. This technique is not new, it has existed since the beginning of our sport, with the advantage that current technology offers maximum safety equipment for the practice of takeoff.
Jaco is located in front of the Pacific Ocean and its conditions are more than perfect for the practice of two-seater paragliding, and our huge landing area offers us a confidence and security that is hardly comparable. Jaco's sea breeze is our ally and allows us to fly 95% of the days of the year. We have thousands of experience flights with passionate national and international certified pilots, with which we ensure a unique and pleasant experience. Come and try to enhance your life adventure by including paragliding in your experiences. We can accommodate large groups of up to 60 passengers. Go ahead and decide to enjoy life both on land, water and air.